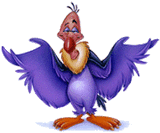 Arthur and Cecil are two vultures from Jungle Cubs who serve as minions of Shere Khan and the Villain League. they are set to first ever appear in the Spongebob series in Spongebob and Friends meet the thief and the cobbler, where it will be reveled that they are mortal nefpews of Fagin. Arthur is the bald headed vulture, while Cecil is the pointed headed vulture. They were even recurring guest stars in the Simba Timon and Pumbaa's adventure series.
Ad blocker interference detected!
Wikia is a free-to-use site that makes money from advertising. We have a modified experience for viewers using ad blockers

Wikia is not accessible if you've made further modifications. Remove the custom ad blocker rule(s) and the page will load as expected.