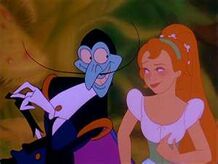 Berkeley Beetle
is the supporting antagonist of the movie
Thumbelina
. he is the henchman of
Grundel Toad
, he is a beetle who works with four beetles. Berkeley is voiced by Gilbert Gottfried, the man who played
Iago
from
Aladdin
. He is saying to Grundel Toad about he doesn't know where Thumbelina is. His wings were taken away by Grundel in a way of bribing him to find them both. He finds Cornelius frozen underwater. When he finds Grundel, he is pleased that the prince is dead. But he still had to find Thumbelina
In the climax, Berkeley tries to catch Thumbelina for Grundel as she leaves the wedding. But when the Fairy Prince arrived - Grundel is enraged that Berkeley failed to kill him, and knocks the Beetle out by humorously bashing his head in and battles Cornelius. In the credits, he returned to his normal, popstar life and got his wings back.
He reprises his role in the Spyro adventure, where a joke will be played on how Iago and Berkely sound very alike. He's not in cahoots with Maleficent or Mirage...or is he? no, he isn't.
Role outside the Series
He is also a reformed character in the Jaden's Adventures series by rtgoh1, cause he felt he's nothing more of a simpleton caught in the wrong crowd, and that Jaden Yuki saved him from Grundel.
Ad blocker interference detected!
Wikia is a free-to-use site that makes money from advertising. We have a modified experience for viewers using ad blockers

Wikia is not accessible if you've made further modifications. Remove the custom ad blocker rule(s) and the page will load as expected.