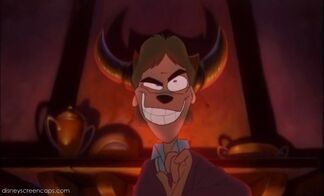 Bradley "Brad" Uppercrust III is the main antagonist in An Extremely Goofy Movie. He is the leader of the "Gamma Mu Mu" fratenity at Max Goof's college, and a selfish skater who only aims for his own victory, not caring how much Gammas will be left behind. In the spongebob adventure of the film, he was recruited by Madam Medusa, who is posing as an art teacher, and Snoops with the job as the princeibal, into the Villain League to try and destroy Spongebob at the X-Games.
Ad blocker interference detected!
Wikia is a free-to-use site that makes money from advertising. We have a modified experience for viewers using ad blockers

Wikia is not accessible if you've made further modifications. Remove the custom ad blocker rule(s) and the page will load as expected.