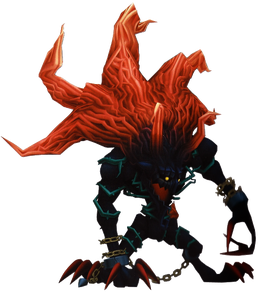 Dark Thorn
is
Gaston
's ultimate Heartless form, activated by Fagin in a last ditch attempt to capture Belle for her status as a Princess of Heart. Sora and Spongebob, alongside the dying Beast, were able to take Gaston Dark Thorn down in an ultimate final battle in the ball room.
(SPOILER ALERT! This character page contains info of a moisode not yet released. it is nessersary to ignor the above info untill ferther notice.)
Ad blocker interference detected!
Wikia is a free-to-use site that makes money from advertising. We have a modified experience for viewers using ad blockers

Wikia is not accessible if you've made further modifications. Remove the custom ad blocker rule(s) and the page will load as expected.