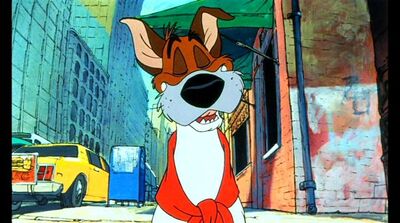 Dodger
is the main deuteragonist from
Oliver & Company
, based on The Artful Dodger from Charles Dickens' "Oliver Twist". In Disney's re-imagining of the story, he is a street-smart mongrel (although his predominant breed appears to be terriers), continuing the stereotype that mongrels are smarter than purebreds. He was voiced by Billy Joel.
PersonalityEdit
Dodger is the appointed leader of Fagin's gang his first scene in the film appears when his paws are seen underneath a car. He is calm, sly, and cool and is also Oliver's best friend since he doesn't mind cats because of "Too much fur".
Sayings
'Is this us losing our sense of humor?'
'Consider it a free lesson in street savoir faire from New York's coolest quadruped.'
'Absitively Posolutely!'
'This city's got the beat, and you gotta hook into it.'
Ad blocker interference detected!
Wikia is a free-to-use site that makes money from advertising. We have a modified experience for viewers using ad blockers

Wikia is not accessible if you've made further modifications. Remove the custom ad blocker rule(s) and the page will load as expected.