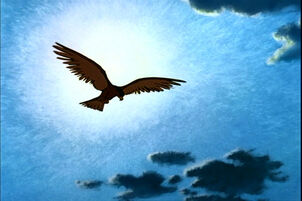 The Eagle is a minor villain in the 1963 film, The Sword in the Stone. It attacks Wart when he is transformed into a bird. Archimedes the Owl eventually rescues him, but they end up in the hut of Madam Mim.
In the spongebob adventure, Fagin controlled the creature through the darkness in its heart. It was used to get Arthur to Mim so that she could kill him. After the eagle did its job, Fagin saw no more use in it and turned the hawk into a Heartless.
Ad blocker interference detected!
Wikia is a free-to-use site that makes money from advertising. We have a modified experience for viewers using ad blockers

Wikia is not accessible if you've made further modifications. Remove the custom ad blocker rule(s) and the page will load as expected.