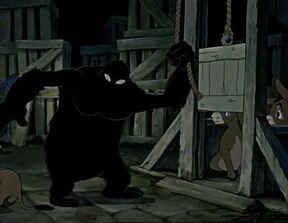 The Gorilla Men are Dark Spawn shadow demons controlled by the Coachman and serve the Villain League as their elite mooks. While the boys enjoy themselves in the fairground area of the Island,
the Coachman
cracks his whip, ordering his minions to shut and lock the main doors, preventing the unwitting boys from escaping. He then orders them to "get down below" and prepare crates. They are next seen loading donkeys- the naughty boys transformed -into these crates, under the Coachman's watchful eye. The donkeys are then sold as labour. Their appearance is never completely revealed; they are shown only in shadow, save for their glowing white eyes, and they never speak. However, it can be discerned from the silhouette of a minion that they have arms resembling that of a gorilla; they are also whipped by the Coachman, suggesting that they are beasts. However, the fact that the Coachman refers to them as "blokes" suggests a certain amount of humanity. Their history and reasons for obeying the Coachman are unknown, and they carry out their master's orders with golem-like efficiency and obedience.
they are set to appear on a spyro crossover.
Ad blocker interference detected!
Wikia is a free-to-use site that makes money from advertising. We have a modified experience for viewers using ad blockers

Wikia is not accessible if you've made further modifications. Remove the custom ad blocker rule(s) and the page will load as expected.