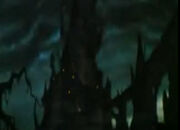 The Horned King's Castle
was once a defining landmark of
Prydain
and was one of the most feared places in the world since it held power unlike any other, especially since it was raw power from the ancient
First Cartoonian War
. It was ruled by the
Horned King
, and it's residents were nothing but thugs and barbarians, as well as two dragons and the Horned King's assistant,
Creeper
. This is where the Villain League had felt like they were in the golden days of evil during the times of the
Second Cartoonian War
, and it was where the last revival of Cobra took place, though quite non-purely. However, after the Black Cauldron was disarmed, the entire castle was dragged into
The Banished Realms
, along with the Horned King, and it now serves as
Malefor
's Fortress. Since there are still remnants of the dark power it possessed, the castle ruins were strictly forbidden by the High Council.
Ad blocker interference detected!
Wikia is a free-to-use site that makes money from advertising. We have a modified experience for viewers using ad blockers

Wikia is not accessible if you've made further modifications. Remove the custom ad blocker rule(s) and the page will load as expected.