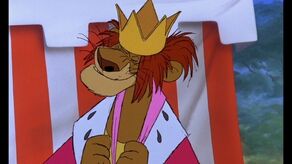 King Leonidas is the main villain from Bedknobs and Broomsticks. It is currently unknown whether he will be a member of the Fang Empire, or be an independent villain pursuing his own agenda. As of now, he is king of the Isle of Naboombu, nearby Sherwood Forest. he is quite populer in "STOP THAT BALL" spoofs, with various characters blown away by his roar of anger.
Ad blocker interference detected!
Wikia is a free-to-use site that makes money from advertising. We have a modified experience for viewers using ad blockers

Wikia is not accessible if you've made further modifications. Remove the custom ad blocker rule(s) and the page will load as expected.