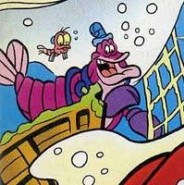 The Lobster Mobster and his little sidekick Da Shrimp are two of some of the villains from the Little Mermaid TV series. L.M. is a red-purple lobster gangster following the style of the 1920s gangster stereotype and his sidekick Da Shrimp is an orange shrimp. Their last appearance is where a pirate's boot (with Sebastian in it) chases them in "Thingamajigger". Due to their incompetent nature, Lobster Mobster and Da Shrimp have been recruited by Team Nefarious to serve as their allies in the sea.
Ad blocker interference detected!
Wikia is a free-to-use site that makes money from advertising. We have a modified experience for viewers using ad blockers

Wikia is not accessible if you've made further modifications. Remove the custom ad blocker rule(s) and the page will load as expected.