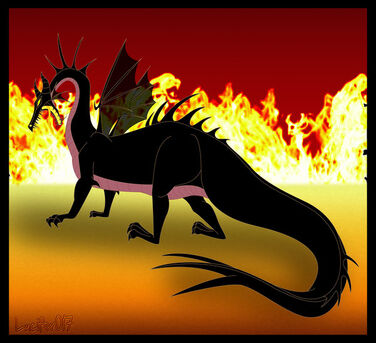 Dragon Maleficent was a dragon form of Maleficent that first appeared in at the end of Sleeping Beauty. Dragon Maleficent has also made numerous appearances outside the original film.
Appearances
In the film's final battle Maleficent transforms into an enormous black terrifying fire breathing dragon by saying "Now you shall deal with me, your prince and all the powers of HELL!" in order to battle and destroy Prince Phillip. With help from Flora, Fauna and Merryweather, the prince was able to defeat her.
Maleficent's Dragon's most famous role outside the film is the nightime spectacular Fantasmic!.  The Queens summons Maleficent in order to destroy Mickey Mouse. She turns into a fire breathing lizard. Mickey appears and finishes her off with the sword in the stone. Maleficent is then destroy along with the other villains.
There have been two dragons used in the Disneyland version. The original version (codenamed "Bucky") was a mechanical puppet on a cherry picker. The new dragon (officially codenamed "Snaps McGee" and known as "Murphy" among fans) debuted on September 1, 2009 after a rough period. The new dragon is the largest Audio-Animatronic ever built, standing at over 45 feet tall.
Maleficent's Dragon makes a cameo appearance in the episode "Guatemala Malarkey" in a pit of fire as one of the booby traps in the cursed temple.
Role in the series
In the black dragon form, Maleficent is near unstoppable and a juggernaght of darkness. She only rarely uses this form during final battles in the worlds.
Ad blocker interference detected!
Wikia is a free-to-use site that makes money from advertising. We have a modified experience for viewers using ad blockers

Wikia is not accessible if you've made further modifications. Remove the custom ad blocker rule(s) and the page will load as expected.