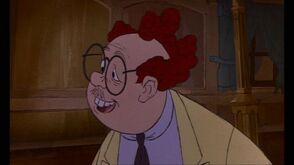 Mr. Snoops is Madame Medusa's business partner and the secondary antagonist from Disney's 1977 film The Rescuers. In the end of the flim, he escapes Devil's Bayou
PersonalityEdit
complete idiot.
AppearancesEdit
minion to Medusa till her betrail, laughing at her misfortine.
Mr. Snoops is seen far from a robot who is clapping his hands.
Role in the series
Mr. Snoops reprises his role from the movie, and will return alongside Madam Medusa in An Extremely Goofy Movie. the leage currently protrayed him as a traitor cause of his assuiation with Medusa, but he is actselly just as betrayed by Medusa's actions as they were, and has actselly boldly came to them to resume work, but was harshly chased off countlessly by Dark Cynder. Course, the abuse ended when Cynder was cured, and Mirage gladly seen that he was merely got caught in misidentiacation. however, it was not without him being forced to get Medusa back to the leage in exchange for Mirage to get the rest of the leage recinsed their miscalulation on Snoops loyalty.
Ad blocker interference detected!
Wikia is a free-to-use site that makes money from advertising. We have a modified experience for viewers using ad blockers

Wikia is not accessible if you've made further modifications. Remove the custom ad blocker rule(s) and the page will load as expected.