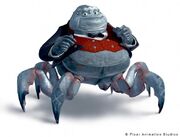 Henry J. Waternoose III is the hidden secondary antagonist of Monsters, Inc. He is a member of the Villain League.
Role in the series
Mr. Waternoose reprises his role from the film, which has now been confirmed to be made by Scroopfan. In the movisode, Waternoose joined the Villain League on his own free will. He wasn't corrupted by a villain to turn evil; he was simply that desperate to save his own company from going under. However, Mirage does subtly push him even further to darkness during the Final Boss of the Monstropolis campaign.
Ad blocker interference detected!
Wikia is a free-to-use site that makes money from advertising. We have a modified experience for viewers using ad blockers

Wikia is not accessible if you've made further modifications. Remove the custom ad blocker rule(s) and the page will load as expected.