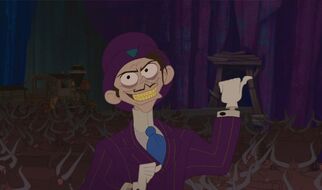 Mr. Wesley (Though prefers the name Westley) is a major villain in the 2004 film,Home on the Range. He helps Alameda Slim get all the cows onto the train to sell them all. In the Spongebob adventure of his film, he reprises his role as a Villain League ally, and also as a transport drier to Dark Cynder's Sloatter house. He is defeated in the end, but will return in Looney Tunes: Back in Action as an ally to Yosemite Sam.
Ad blocker interference detected!
Wikia is a free-to-use site that makes money from advertising. We have a modified experience for viewers using ad blockers

Wikia is not accessible if you've made further modifications. Remove the custom ad blocker rule(s) and the page will load as expected.