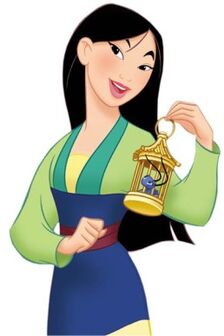 Fa Mulan, later Li Mulan, is the protagonist of Disney's 1998 feature film Mulan and its direct-to-video sequel. She is inspired by the legendary Hua Mulan from the Chinese poem The Ballad of Mulan. Mulan is an official Disney Princess, and distinctively, is the only one that is not a royal princess, but a commoner. In the Spongebob series, Mulan is a Princess of Heart, but is not currently desired by Mirage because she does not want booster devices to her machine of darkness.
Appearance and Personality[1]Edit
Mulan is atypical to previous female roles in Disney films; she is courageous, more self-reliant, and does not focus on marriage. She does not fit in with the expectations of a young Chinese girl of the time; despite her beauty, she is clumsy, outspoken, and independent rather than graceful, silent and demure. Her courage, intelligence, and determination also help her through her adventures. She is the first and only Disney Princess of Asian descent.
Mulan is a tall, slender, beautiful Chinese girl. In the original film, Mulan is only 16 years old, with the action of the sequel film taking place one month after the events of the first. Initially, Mulan had long hair. However, she cut it short in order to pass as a man in the army. Though she keeps her hair short in the sequel, her appearances in the Disney Princess line feature her with her original, longer hairstyle. It could still be short because it's only been a month since the events of the first film. She typically wears various Chinese style dresses, but has been seen wearing armor, as well as a kung-fu styled outfit.
Mulan is the only child of Fa Zhou, a former war hero, and Fa Li. Mulan is sent to the town Matchmaker to find her a husband, which ends in humiliating failure. Shortly after, the Chinese Emperor's counselor, Chi-Fu, arrives in her village to announce that the deadly Huns, led by Shan Yu, have invaded China, and that one man in every family must serve in the war. Despite her protests (which the Emperor's consul Chi Fu silences), her father, says that he will go in spite of his old age and old war wounds. Mulan decides to go in his place posing as a man, cutting her long hair with a sword, stealing her father's armor and riding away on her horse, Khan, so she will keep him from risking his life.
[6]Mulan meets Mushu on her way to the army camp.Added by Degrassi Fan
On her way to the army camp, Mulan meets Mushu, a small dragon who claims to be a guardian sent by her ancestors. He agrees to help her pass as a soldier. Though Mulan fails the army training at first, she uses her intelligence and becomes the first soldier to solve a puzzle set by Li Shang, her unit's commanding officer.
Afterward, she rapidly progresses to become one of the best soldiers in the unit. She also makes friends in Yao, Ling and Chien Po, three fellow soldiers, though she is forced to hide her gender. Through the machinations of Mushu, the soldiers are called to the war front.
After finding that the Chinese Army, led by Shang's father General Li, has been completely destroyed by the Huns, Shang leads Mulan and the other soldiers to stop them. Despite the unit being outnumbered, Mulan is able to defeat the Huns by crushing them in an avalanche by way of a rocket. However, she sustains an injury from Shan-Yu, which results in her gender being revealed. She is spared death, which was the punishment for a woman joining the army, as Shang's way of repaying the debt from Mulan rescuing him during the previous battle.
Mulan is left behind by the army and prepares to return home. However, she discovers that Shan-Yu and his five generals have survived and are heading towards the Imperial City. Mulan attempts to warn Shang, but she is not listened to because she is a woman. When Shan Yu captures the Emperor, however, Shang, Yao, Ling, and Chien Po join her in a rescue attempt. Mulan disguises herself, Yao, Ling, and Chien Po as concubines and take out the Hun guards, allowing Shang to reach Shan Yu and the emperor. Yao, Ling and Chein Po escape with the Emperor, but Mulan remains behind after Shang is knocked unconscious by Shan Yu. She reveals herself as the soldier who took down the Huns, which angers Shan Yu. While running from Shan Yu, she comes up with a plan to kill him by means of fireworks. While Mushu goes to get the fireworks, Mulan faces Shan Yu on the roof of the Emperor's palace. She disarms him with a paper fan and uses his sword to pin him to the roof, allowing Mushu to fire fireworks at Shan Yu, presumably killing him.
Mulan is confronted by the Emperor with her various crimes. At the same time, he acknowledges that she saved all of China and bows to her out of respect. His gesture results in all the gathered people bowing as well. The Emperor first offers Mulan a council position then a job as consul, both of which Mulan refuses. The Emperor instead gifts her with his personal crest, and Shan Yu's sword. Mulan returns home, and is able to reconcile with her father. The end of the film shows Mulan inviting Shang, who had followed Mulan under the guise of returning her helmet, to dinner.
[8]Mulan in Mulan II.Added by DTierney30
The beginning of the sequel shows Shang, now a General, proposing to Mulan, and they begin preparing for a marriage. However, the Emperor tasks them both with escorting his three daughters to the neighboring kingdom of Qui Gong in an attempt to form an alliance. Should the alliance fail, the Mongols would invade China. Mulan and Shang ask Yao, Ling, and Chien Po to accompany them. Shang and Mulan's relationship becomes somewhat strained during the trip, as the couple has differing views on various issues, particularly on the subject of the arranged marriages the princesses are being forced into. Meanwhile, Mushu is informed that if Mulan marries Shang, he would cease to be a guardian, instead being returned to his former job of Gong Ringer. Mushu takes advantage of Mulan and Shang's differences and tries to break them up. However, Mulan soon discovers Mushu's plans and tries to reconcile with Shang.
Before she can talk to Shang, bandits attack the group. Shang and Mulan are able to save the princesses, but are left hanging from a broken bridge. Shang chooses to sacrifice himself, as the bridge can only support one. Mulan and the princesses continue towards Qui Gong. Seeing that the princesses have fallen in love with Yao, Ling and Chien Po, and believing that Shang is dead, Mulan prepares to offer herself as a bride in their places. However, Shang is revealed to have survived his fall, and travels to stop her. Mushu is able to fix things by masquerading as the Golden Dragon of Unity, and forces the King to stop the wedding. The princesses are released from their vows and Shang and Mulan are married.
The end of the film, reveals that Mulan has told Shang about Mushu, and that Shang combined the family temples, allowing Mushu to remain a guardian.
Role in the series
Mulan reprises her role in the series, but is now a booster Princess of Heart to the main 7. cause of her origen as a commenner, she's not a true princess of heart, and is out of reach of the villain leage's shecmes. She is also an addstional reinforcement ally should Shan-yu be involed.
Ad blocker interference detected!
Wikia is a free-to-use site that makes money from advertising. We have a modified experience for viewers using ad blockers

Wikia is not accessible if you've made further modifications. Remove the custom ad blocker rule(s) and the page will load as expected.