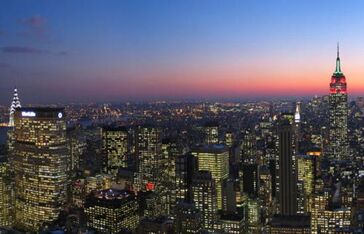 New York City
is the most famous city in the world, and the most populous in North America. This city is known to be a great city to go to for holding the Statue of Liberty, Central Park, The Empire State Building, and Times Square. This city is the most widely-known city in the UUniverses, with various counterparts to choose from. One is the homeworld of Bernard, Bianca, Penny, Madam Medusa, and Snoops. Another is the homeworld of Oliver, Dodger and his Gang, Human Fagin, Jenny, Georgette, Sykes, and Roscoe & Desoto. Another is the homeworld of the cast of
Rhapsody in Blue
in
Fantasia 2000
. Another is the homeworld of Alex, Marty, Melman, Gloria, The Penguins, Jason and Phil, Marlene, and so on. And another one is the home of Robert Phillip and Nancy Tremaine. Others are incredibly known. New York is so popular that the people of New York, which mainly consisted of humans, became so ignorent of other worlds that they even began denying it. However, after the events of
SpongeBob and The Hyenas Get Lost in Madagascar
and
SpongeBob and Friends join The Rescuers
, they became more aware of the UUniverses, and even wanted to learn more. As the Lodgers kept arriving in other New York Cities, they started learning much more about creating Gummi Ships and used them to travel across the stars to explore.
Ad blocker interference detected!
Wikia is a free-to-use site that makes money from advertising. We have a modified experience for viewers using ad blockers

Wikia is not accessible if you've made further modifications. Remove the custom ad blocker rule(s) and the page will load as expected.