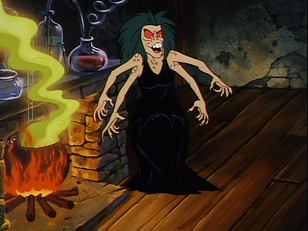 Revolta is the wicked, four-armed witch of the web, a resident of Halloween Town, and a member of Dracula's organization and the Villain league. Revolta was also the Big Bad of Scooby Doo and the Ghoul School. she would be considered a powerful magic caster had not been the fact she failed to even corrupt so much as young monsters offsprings of good famous monsters, even the offspring of a good counterpart of Dracula.
Ad blocker interference detected!
Wikia is a free-to-use site that makes money from advertising. We have a modified experience for viewers using ad blockers

Wikia is not accessible if you've made further modifications. Remove the custom ad blocker rule(s) and the page will load as expected.