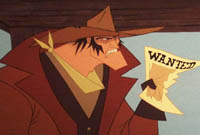 Rico the human is a villainous mercenary that appeared in Disney's 2004 film Home on the Range. In the Spongebob adventures version of the film, he reprises his role, serving as a Villain League bounty hunter up until his defeat at the hands of the Shell Louge Squad. He may return some time in the future to seek his revenge. maybe possabley Spyro and the Looney Tunes: Back in Action, though not seen in the first part of the preview and the second is on hold.
Ad blocker interference detected!
Wikia is a free-to-use site that makes money from advertising. We have a modified experience for viewers using ad blockers

Wikia is not accessible if you've made further modifications. Remove the custom ad blocker rule(s) and the page will load as expected.