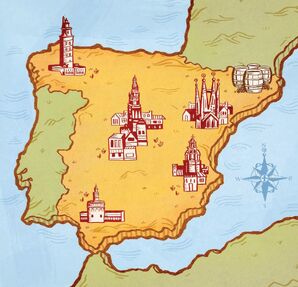 Spain
is a commonly-known place in the UUniverses, and there is many known versions. One of them is the homeworld of Tulio, Miguel, Altivo, and Cortés. Another is in Shrek's homeworld and is the homeland of Puss, Kitty Softpaws, Humpty, Jack and Jill, The Whisperer, and the Diablos. Most versions of this land is populated by humans. The First DreamWorks version once intended on showing superiority by conquering the
Digital World
by searching for
El Dorado
under the command of Cortés, who believes that nobody would mess with someone who controls the Digimon. Unfortunately, Cortés was never able to complete this quest because of the possibility that the entrance to El Dorado was cut off like in the original movie. All versions can come in different time eras, and have the same cultures, civilization, and architecture.
Ad blocker interference detected!
Wikia is a free-to-use site that makes money from advertising. We have a modified experience for viewers using ad blockers

Wikia is not accessible if you've made further modifications. Remove the custom ad blocker rule(s) and the page will load as expected.