Spongebob And Friends Meet The Aristocats
is the 3rd moisode of the 2nd Season of the
SpongeBob and Friends Adventures
series. In this adventure, The Shell Lodge take Kairi with them to visit Max the Cat's aunt Duchess, and her children in Paris France. But when the butler of the cat's owner mistress, Edgar, overhears about a will that will leave the mistress' fortune to the cats, and then to Edgar. Because this takes a long time, Edgar decides to get rid of the cats so the fortune will get to him quicker. Then the Villain League members, Yzma, Ruber, and Darla Dimple who wants a little payback on Fidget for ruining her reputation back in
Spongebob and Friends in Cats Dont Dance 
corrupt the urging Butler so they can get the wealth as well as capturing Kairi and Spongebob due to Mirage preparing a very nasty surprise for him. When the Lodgers, Kairi and the cats get lost in the middle of nowhere, they must undergo in an epic journey back to the mansion. Also Fidget's stupidity with Darla back in Hollywood gets him into the same trouble he had with Shifu back in
SpongeBob and Friends meet Hercules
 again but this time with Lord Shen while Kronk is forced into the leagers' doings by Yzma by telling him that she will take back the bad comment she made about his Spinach Puffs.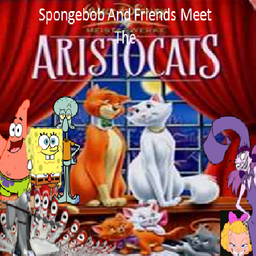 Plot
Songs
TBA
Quotes
TBA

Ad blocker interference detected!
Wikia is a free-to-use site that makes money from advertising. We have a modified experience for viewers using ad blockers

Wikia is not accessible if you've made further modifications. Remove the custom ad blocker rule(s) and the page will load as expected.