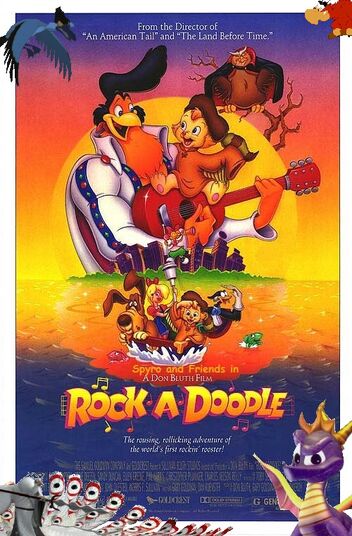 Spyro and the Lodge hang out at a farm where the March Hare used to live until he went mad after an incident involving tea, as they discover from the farm's owner the story of how their top singer, Chanticleer the Rooster, whose job was to raise the sun with his crows, to which the owner asks not to question, about how they thought that he wasn't needed when one day Chanticleer forgets to crow and the Sun came up, only for it to be a ruse by Lodgers' long-time enemy, The
Grand Duke of Owls
. Thus, after a crazy interdimensional hiccup, the Grand Duke discovers a boy named Edmond, and turns him into a kitten, and after the heroes and March Hare's farm mates rescue him, they say they need to help them get Chanticleer back as a storm is coming to start a flood. As the Grand Duke plans to take over the farm with his Villain League associates and eat all the animals, and the Lodgers lament that he is too tough for him due to his increased powers, they agree and try to get him back from a nearby animal-populated city, as he is now a rockstar that is extremely hard to contact, even for the Lodgers themselves. Now, they're gonna have to do the best they can in order to save the farm.
Synopsis
Coming soon...
Ad blocker interference detected!
Wikia is a free-to-use site that makes money from advertising. We have a modified experience for viewers using ad blockers

Wikia is not accessible if you've made further modifications. Remove the custom ad blocker rule(s) and the page will load as expected.