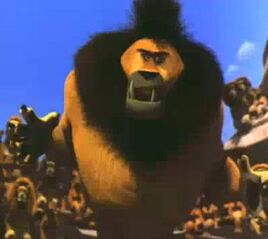 Teetsi is a minor villain in the 2008 movie, Madagascar: Escape 2 Africa. He is Makunga's minion and Alex's rival. Makunga tricks Alex into challenging him to a fight, so that he would lose and be banished. His memorable quote was Let's dance. Also, when awakened and mad, his muscles seem to "pop" and he roars.
Role in the series
Teetsi was originally gonna be scraped in a formerly planned project Spongebob and the Hyenas go to africa, where Scroop replaces him in battling Alex, so the villain leage will have a more dominate role into the series. however, the moisode was forceabley canceled when it was reveled that the Hyenas, the Cteetahs, and Timon and Pumbaa were used in a Pooh adventure verson of the film, so Scroopfan canceled the episode due to lack of impourent characters, and Makunga ended making an independent appearence in SpongeBob's Adventures in The Jungle Book as a following result of Scroopfan not wanting Makunga to be altogather scrapped from the series. because of Teetsi's oh so minor role (and that he didn't appear again at the end of the movie), he won't make any independent appearences.
Ad blocker interference detected!
Wikia is a free-to-use site that makes money from advertising. We have a modified experience for viewers using ad blockers

Wikia is not accessible if you've made further modifications. Remove the custom ad blocker rule(s) and the page will load as expected.