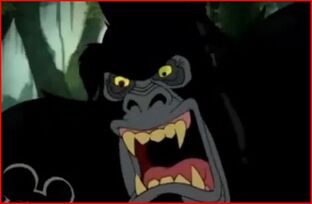 Tublat is one of Tarzan's old enemies and is a member of the Fang Empire. Tublat is a villain in The Legend of Tarzan. He is a mean gorilla who is now a former member of Tarzan's gorilla family. He challenged Kerchak for leadership but was defeated and cast out. He is considered dangerous by all the gorillas. He once took over another gorilla family that Gobu belonged to. But the family overthrew him and Gobu replaced him. The original Tublat's personality is also just like Kerchak's in the Disney movie. He often calls Tarzan a hairless runt. He has four toes on his right foot, and this is one way to tell he is in the area.
Ad blocker interference detected!
Wikia is a free-to-use site that makes money from advertising. We have a modified experience for viewers using ad blockers

Wikia is not accessible if you've made further modifications. Remove the custom ad blocker rule(s) and the page will load as expected.