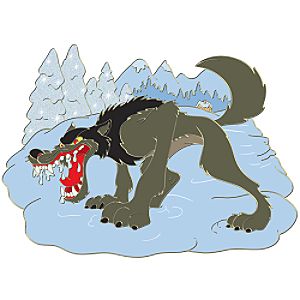 The Wolf is the main antagonist from Peter and the Wolf, and is the Horned King's personal guard dog in his castle in Prydain. it has not really appeared in Spongebob and Friends find the black cauldron, however, due to Scroopfan never even thinking about this.
The Wolf is an ominous creature
In Peter and the Wolf the evil wolf relentlessly presues Peter and his animal friends. Sonia the duck ends up being separated from the rest of the group, and the wolf leads her into a long chase and seemingly devours her. Determined for revenge, Peter organizes a plan to capture the wolf with Sasha the bird distracting him while Peter and Ivan the cat tie him up with a rope the young wolf hunter had.
Role in the series
The wolf is a henchmen to the Villain League.
Ad blocker interference detected!
Wikia is a free-to-use site that makes money from advertising. We have a modified experience for viewers using ad blockers

Wikia is not accessible if you've made further modifications. Remove the custom ad blocker rule(s) and the page will load as expected.