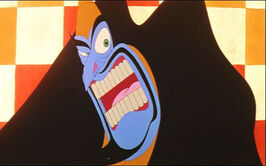 Zigzag is the grand vizier to King Nod, a member of Team Nefarious, and is the dragon to King One-Eye in The Thief & the Cobbler. His evil scheme was to try and take over Baghdad, but ended up getting killed off by crocodiles and his own pet vulture. He is to be then resurrected by Dr. Nefarious to fully serve Team Nefarious.
Ad blocker interference detected!
Wikia is a free-to-use site that makes money from advertising. We have a modified experience for viewers using ad blockers

Wikia is not accessible if you've made further modifications. Remove the custom ad blocker rule(s) and the page will load as expected.